Today was full of many good things; church in the morning, lunch at a Chinese restaurant, rest in the afternoon, a phone call with my family, and a chance to play my guitar and sing with Lou and Valli in the evening. 
There were two extra good points in the day though.
     First, I saw two deer in the backyard of The Mansion. I was talking to my parents on the phone and walking around outside when I saw them. Lou and Valli had mentioned that their backyard was a popular hangout for deer, but seeing them right there, so close up, was another thing entirely.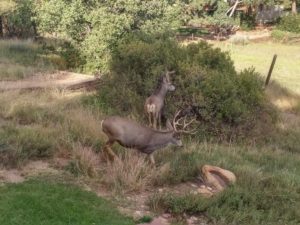 I got the impression that one of them didn't like me and the other one didn't trust me, but they continued eating contentedly as I walked to the edge of the porch and took pictures of them. I left them alone after that and noticed that they were gone about twenty minutes later.
     Second, I got to make sushi to go with our delectable dinner of miso soup, rice, and curry chicken. This was the first time I've made sushi, so Valli showed me how to do it. We placed a seaweed sheet on the cutting board, covered a section with sticky rice, then put cucumber, pickled plum, and shiso leaf (also called beefsteak or Japanese basil) inside, then rolled it all up and cut it into two-inch pieces. This kind of sushi is called an ume roll.
     During dinner, I tried a tiny dab of wasabi on my first piece of sushi. Wasabi is so strange – the way it burns upward through the nose instead of burning the mouth like most spicy foods do. Looking at my next piece, I thought, "Well, if a little wasabi is interesting, why not try a lot?" So I put on about five times as much. Whew! This time the burn flared all the way up my face, blowing through my nose and getting my eyes on the way up. Another experience to remember!